Tapestry 4.1 - Dojo Integrated
Tapestry is an open-source framework for creating dynamic, robust, highly scalable web applications in Java. Tapestry complements and builds upon the standard Java Servlet API, and so it works in any servlet container or application server.
This development series is focused around providing a full layer of support for building highly dynamic web applications (XHR/ajax/dhtml). Whether you would like to sprinkle in a few tiny ajax effects in an existing application, or build a full featured heavy client application Tapestry(and dojo) should be able to support your needs.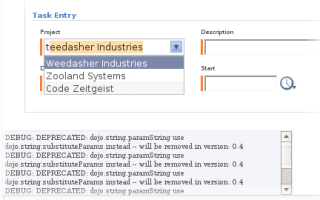 New Features:
New Tutorials!
A great new
Devshed Tutorial Series
written by
Alexander Kolesnikov
has been slowly building up as he continues to pump new articles out.
The amount of material covered is closer to being an actual book than a random set of tutorials. This is well worth reading for anyone wanting to get a better overall handle on using Tapestry 4.
Getting started?: Try the Tapestry 4 Archetype
Try the maven2
Archetype
to bootstrap your project with some typical configurations.
Dojo

Most of the functionality in this series is based entirely on the wonderful
Dojo
javascript toolkit library. Not to say that you won't easily be able to plug in another toolkit if you like, just that the defaults will all be based around dojo.